Excimer Ophthalmology Clinic provides treatment for amblyopia or lazy eye in children. This is a functional, reversible decrease in vision where one of the two eyes is rarely (if ever) involved in the vision process.
Causes of amblyopia in children
Amblyopia usually results from unresolved ophthalmic conditions. Most often amblyopia develops from congenital disorders in the eyeball optics: astigmatism, differences in eye refraction, hyperopia in children, congenital myopia (even a slight degree). A common cause of amblyopia is strabismus. In rare cases, it develops with a long-term obstruction to the light entering the retina, such as corneal opacity, congenital lens opacity (cataract), drooping eyelids (ptosis). The disease has a totally imperceptible course. If amblyopia is a congenital disorder, the child doesn't know that he/she may see differently way and considers everything a norm without any complaints. It is possible to identify the causes of amblyopia only with a thorough eye exam, as they are quite individual.
Amblyopia diagnosis
Quite often even an adult person accidentally closes one eye and realizes that the other eye is blind. This is why doctors highly recommend undergoing regular eye exams at least once a year. In addition, specialists note that amblyopia may develop in the long-term absence of refractive pathology treatment when the child does not wear glasses or contact lenses. Thus, eyes do not know what is "good vision" and what is "bad vision".
What does a positive result depend on?
Pediatric ophthalmologists recommend regular eye exams since the key point is to make sure you don't waste time! There is a special term defining the time when amblyopia treatment is most effective. It is the "sensitive period" coming to an end by the age of eight or nine. Therefore, the earlier amblyopia is detected and appropriate treatment is started, the greater the probability of complete recovery.
Amblyopia treatment
Amblyopia treatment in children is a difficult multi-step process that requires efforts from both the child and the parents, but preserving vision is worth it. Treatment is aimed at eliminating the cause, and then efforts are devoted to restoring the functions of the visual analyzer, that is, to increase visual acuity.
Amblyopia treatment is a highly individualized process. It can take several forms: training of the amblyopic eye, proper correction of ametropia (optic defect), and eliminating strabismus. Eximer KIDS Ophthalmology Clinic offers a treatment program selected by a child ophthalmologist depending on the diagnostic findings and certain factors. The procedures are prescribed specifically for each child and the results at all stages are monitored by the attending physician.
Reamed (Amblyokor) complex for amblyopia treatment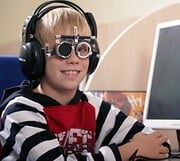 When treating amblyopia, the first thing to do is to activate the lazy eye. This is why Eximer Ophthalmology Clinic employs the most efficient Reamed (Amblyokor) complex, which is based on the biofeedback principle. Therapeutic treatment with Reamed allows normalizing the central brain areas responsible for eyesight in a playful way. The therapeutic efficiency is significantly increased when Reamed is combined with other therapies restoring functions of the optic nerve, retina, and focusing eye system. Properly selected machine-assisted treatment is a must when dealing with amblyopia.
To induce the lazy eye, there is another method called occlusion, or taping the better-sighted eye. This manipulation should only be done upon recommendation and under the strict supervision of a physician for no more than two and a half months.
Prompt therapeutic treatment of amblyopia can restore visual acuity up to its full recovery. Remember that success largely depends on the parents themselves. Don't put off visiting a pediatric ophthalmologist, follow the doctor's recommendations, don't neglect optical correction, and don't expect amblyopia to go away by itself.