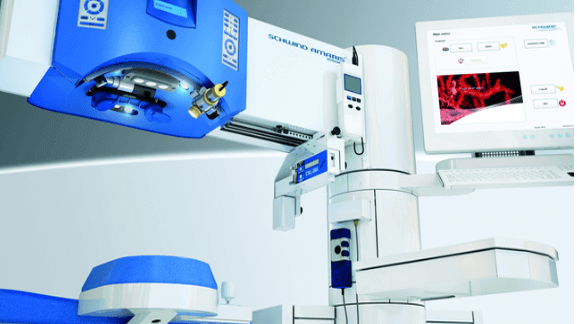 Amaris makes laser correction extremely safe and rehabilitation afterward is fast and comfortable. This is possible thanks to the innovative 5D technologies skillfully integrated into the latest equipment.
Amaris allows performing correction in a few seconds and after the procedure, the majority of patients have vision up to 100% and even beyond. Laser vision correction doesn't affect your everyday life rhythm. You don't have to time off or go to the hospital. Several days after the correction you can enjoy your daily routine, work at the computer, read, write, and watch TV.
The essence of the SCHWIND AMARIS excimer laser for vision correction with 5D-Eye LASIK technology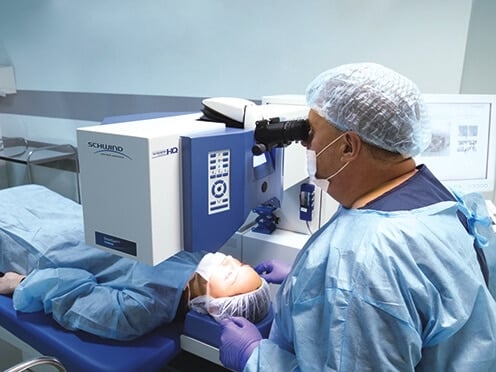 SCHWIND AMARIS is the latest laser, making the procedure of vision correction as safe and predictable as possible, and rehabilitation as comfortable as it could be. This is done with the unique 5D technology!
What are the advantages of 5D-Eye LASIK vision correction?
Amaris is a laser system featuring a very fast eye-tracking system during the correction, including on aspherical surfaces. This is enabled through a unique 5D technology that is fixed on five axes. The laser beam affects the cornea with maximum precision. External factors do not influence the result of the procedure. Every patient's eye is different, and this must be taken into account when correcting the eyesight. The new excimer laser has state-of-the-art software. It is used to choose a solution to ensure an excellent result regardless of the complexity of the case.
AMARIS is an intelligent thermal control system. The pulses are distributed individually and the thermal load on the cornea is minimized. During the surgery, the cornea is actually not exposed to heat. Thus, the recovery is quick without making the patient face any difficulties or inconveniences in everyday life.
The innovative technology of corneal tissue vaporization that provides two-level ablation (laser vaporization) is another major feature of the Amaris system. Therefore, not only visual acuity is restored, but also its contrast, brightness, sharpness, and quality of twilight vision. Please note: full vision recovery occurs 3-4 hours after the procedure.