5D SportSmartSurf laser vision correction is suitable for those practicing sports and living an active lifestyle.
Vision correction brings great opportunities for people. Those involved in sports will especially appreciate it. Eximer Ophthalmology Clinic offers people with an active lifestyle, athletes, and patients whose profession requires 100% vision to pay attention to this technology. Using 5D SportSmartSurf laser correction, you will be able to give your best effort to your hobby without being distracted by visual problems.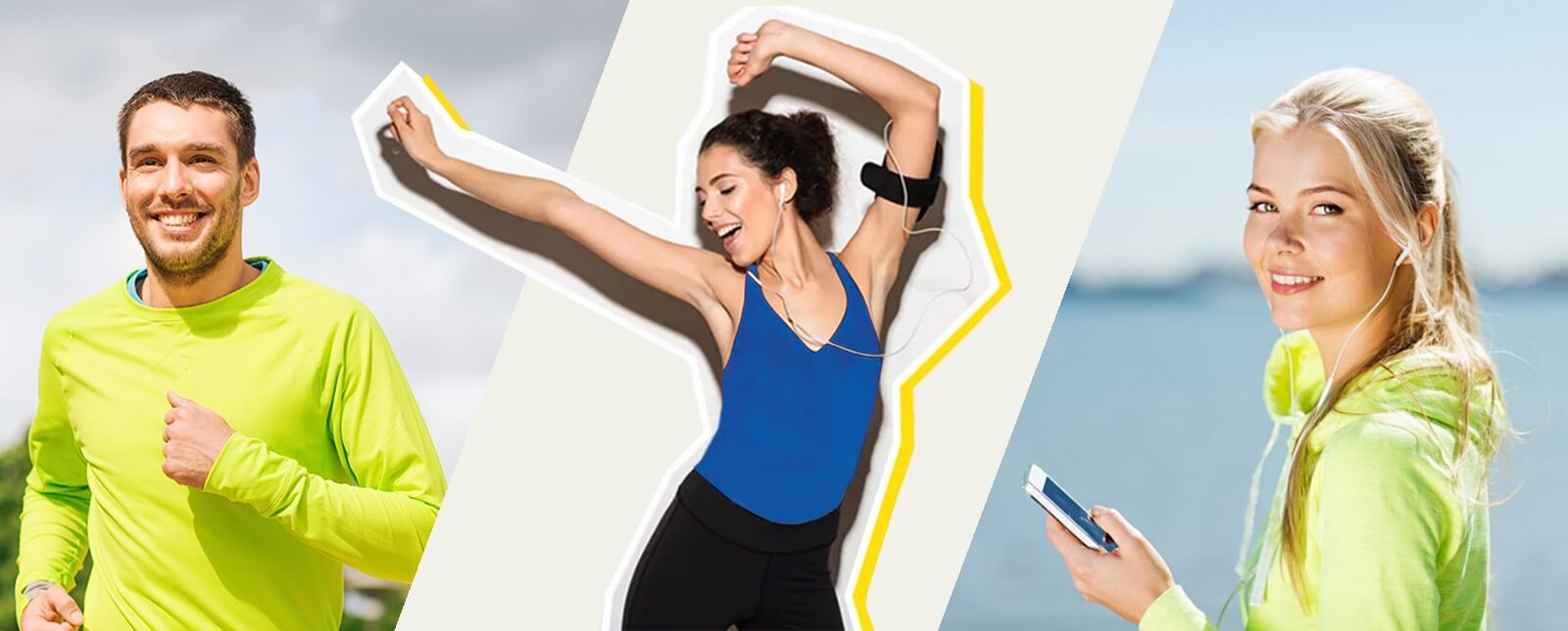 Reasons why do athletes choose the 5D SportSmartSurf laser correction?
1. A life and career without limitations
Laser correction erases all restrictions. Now you have no barriers to skiing or swimming in the pool. Instead of getting distracted by glasses or lenses, just play sports without worrying about broken glasses or lenses every time.
2. Good vision = great results
One more benefit provided by laser correction is the ability to achieve better results in sports. For example, if you regularly play basketball or tennis, the accuracy of your shots and the quality of your game depends on the clarity and quality of your vision. The 5D SportSmartSurf can provide you with that benefit.
3. Quick adaptability to extreme conditions
Most athletes exercise in a gym or a sports club to shape up. However, there are times when they have to work out outdoors, with snow, dust, wind, or water conditions. Of course, lenses or glasses get in the way of effective exercise. Meanwhile, laser correction will allow you to train in any weather conditions.
The 5D SportSmartSurf laser correction is the best choice for solving vision problems in athletes. It corrects:
Myopia — from -1 to -8 diopters
Hyperopia — up to +6 diopters
Astigmatism — up to 6 diopters
Nowadays, laser vision correction gives you a real chance to overcome any vision disorder and become completely independent.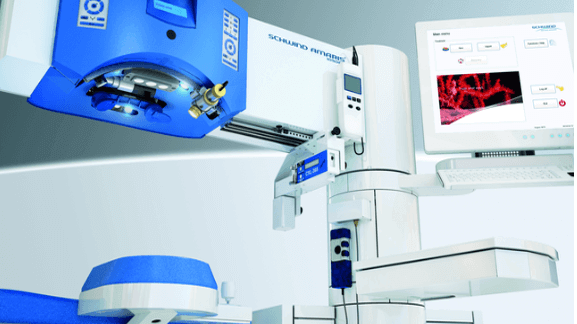 5D SportSmartSurf laser vision correction benefits
Correction is done solely with a SCHWIND AMARIS laser, using the built-in innovative 5D technology
Imagine a surgery without any surgical intervention! Is it possible?! During the procedure, just the SCHWIND AMARIS laser operates, correcting the thin top layer of the cornea according to a well-defined 5D SportSmartSurf program.
This is a completely contact-free correction method on the cornea surface that takes no more than 15 minutes. It's hard to believe, but you can change your life drastically and see the world with different eyes in such a short period of time! It's a real wow effect that patients experience while still in the operating room.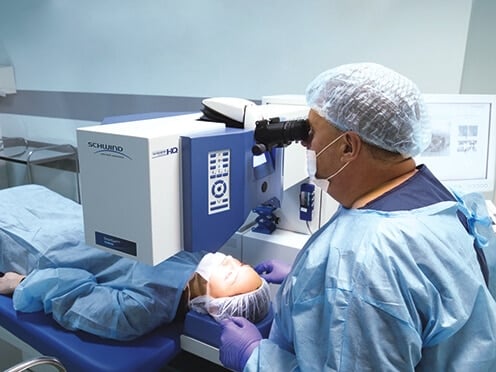 The surgeon is certified by a German company
5D SportSmartSurf laser vision correction requires a surgeon with special qualification, and SCHWIND approaches this issue with the well-known German pedantry. Every eye surgeon is specially trained and certified by SCHWIND eye-tech solutions before he/she is allowed to work with the laser. All surgeons get a registration on the official SCHWIND website.
Optimized optical properties of the cornea are achieved
Unbelievably clear, bright, and contrasting vision is one of the main advantages of the 5D SportSmartSurf technique. That is why this method is chosen by athletes, who need to see well. Owing to this technology, the absolute smoothness of the cornea surface is achieved. It increases the refraction accuracy and improves the quality of your vision. You will see the world in great detail and be able to distinguish even the smallest movements, for example, during sport fishing, when even a slight splash of water is important.
No halo vision and glare
5D SportSmartSurf laser method corrects refraction with maximum precision taking into account thickness of corneal epithelium down to the micron. It allows not only improving the quality of vision but also getting rid of unpleasant feelings as with other techniques: sensitivity to light, halo vision, glare. Needless to say, one can see how clear the objects become at a far distance.
One step vision correction
5D SportSmartSurf laser correction is carried out in one step, which guarantees fast and safe surgery. The laser beam scans the corneal surface and instantly corrects it, shaping it to the desired parameters.
Data Science Implementation
It's not just a fancy word. Thanks to the state-of-the-art technology of the SCHWIND AMARIS laser system, artificial intelligence processes huge arrays of digits, comparing all the data obtained during diagnosis, and selecting the best option for 5D SportSmartSurf correction. It is the implementation of Data Science that makes it possible to create personalized interfaces for each patient.
Fast recovery process
Mechanical and alcohol impact on the cornea is avoided during laser correction, therefore the recovery process is quicker compared to other superficial methods of vision correction. Patients experience little or no discomfort during the postoperative period.
After the procedure, a soft contact lens is put on your eye for 3-4 days while the epithelium regenerates. Soon you will be able to set new athletic goals and achieve even better results.
Less likely to develop dry eyes
The new 5D SportSmartSurf method allows patients to reduce the risk of dry eyes. This is achieved due to the fact that during the procedure, there is no mechanical pressure on the cornea, no vacuum effect, and therefore less damage to the epithelial layer.
The results and quality of vision using the 5D SportSmartSurf technique have been confirmed by the world community and practical use by foreign surgeons.
Laser correction is an effective way to solve vision problems.
Life, career, and sports without limitations thanks to 5D SportSmartSurf laser correction!