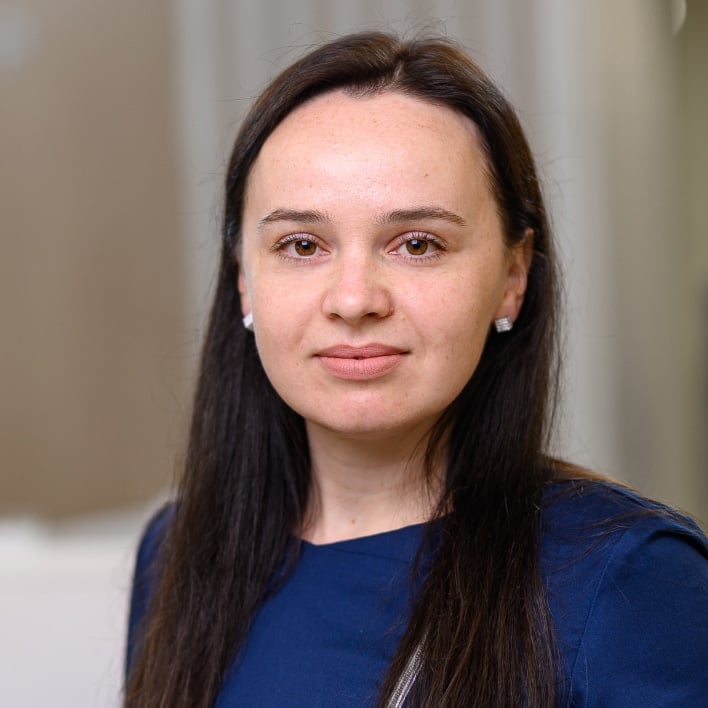 Ophthalmic surgeon, member of the European Society of Cataract and Refractive Surgeons (ESCRS). Certified plastic surgeon
Work experience: 8 years
Specialization:
– Modern methods of vision diagnostics
– Specialist in refractive surgery
– Aesthetic and reconstructive blepharoplasty
– Treatment of dry eye syndrome (IPL Xenon)
– Complex therapy of keratoconus
Education
In 2015 – She graduated from the Kyiv Medical University of the Ukrainian Academy of Medical Sciences, Faculty of Medicine.
2015-2017 – She interned in ophthalmology at Bogomolets National Medical University on the basis of the Ophthalmology Department of Kyiv Clinical Hospital No. 9 and Oleksandrivska Kyiv Hospital.
Professional activity
Since 2017 – She has headed the diagnostic department at Eximer Ophthalmology Clinic.
Since 2019 – She has been an ophthalmologist at Eximer Ophthalmology Clinic.
Certification training
In 2017 – She attended Alcon optometric courses in IOL calculation.
In 2020 – She completed courses in optical coherence tomography of the retina, retinal angiography, and anterior segment angiography.
Research activities
She takes an active part in scientific conferences. She has 3 scientific publications.
About the doctor
Yuliia Leichenko is an incredible workaholic and a hard worker. She joined us when she was an internship student. She started out as a diagnostician, tirelessly mastering new skills and techniques. And grew up to become a refractive surgeon, who gets the most positive feedback from the patients. Yulia Valentinovna knows how to connect with people easily. Patients fall in love with her and ask to make an appointment only with her. In addition, Yulia Valentinovna is a very versatile person. She is engaged in boxing. She can make repairs herself. And she is not afraid of any work. This is a person with huge potential.
Doctor interview