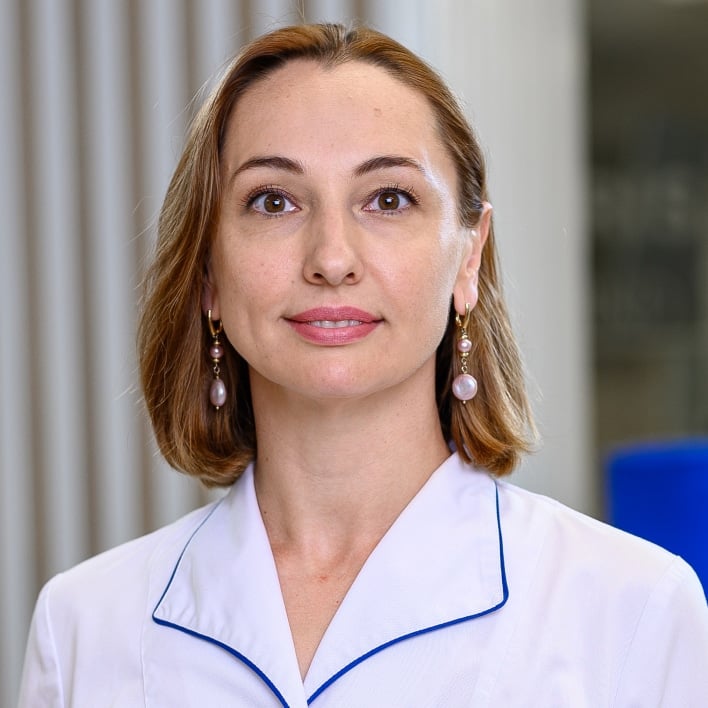 Second category ophthalmologist, pediatric department, member of the Ukrainian Association of Children's Ophthalmologists "ADOU", specialist in orthokeratology treatment
Work experience: 15 years
Specialization
– Computer diagnostics of vision of children
– Treatment of refractive anomalies and strabismus in children and adults
– Selection of contact vision correction of varying degrees of complexity
– Specialist in orthokeratology treatment
Education
In 2008 – She graduated from National Pirogov Memorial Medical University, Vinnytsya.
From 2008 to 2010 – She worked as a resident physician at Kyiv Regional Clinical Hospital.
Professional activity
2010 to 2013 – She worked as an ophthalmologist at Kyiv Regional Clinical Hospital.
From 2010 to 2012 – She combined duties as an ophthalmologist at Laser Vision Clinic.
Since 2012 – She has been an ophthalmologist at the children's department of the Eximer Ophthalmology Clinic.
Certification training
In 2011 – She completed advanced courses in pediatric ophthalmology.
In 2015 – She took thematic advanced courses in optometry and contact correction.
In 2018 – She completed advanced courses and received a certificate of the second category in pediatric ophthalmology.
She regularly participates in ophthalmology conferences. She improves her skills in the newest and modern methods of examination and treatment in ophthalmology.
About the doctor
Natalia Petrovna specializes in treating children's eye diseases. She is a dedicated doctor and diplomat by nature. She finds an approach to each child. She is intelligent, discreet, and calm. She is always attentive to an emotional patient and will accept a well thought out, most correct decision in the given case. If you need to choose high-quality glasses, contact, or overnight lenses, then you should contact Natalia Petrovna. She will do it at the highest professional level. Natalia Petrovna is a person who manages absolutely everything. She is very organized and focused. She is always aware of all the latest technologies in ophthalmology, relentlessly putting them into practice.
Doctor interview