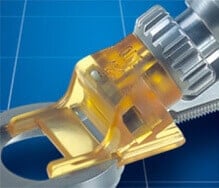 Eximer Ophthalmology Clinic offers a unique laser vision correction technique (LASIK method), which includes the formation of an extra-thin corneal flap (90 µm). This technology is exclusive as no clinic in Ukraine has facilities to form such thin corneal flap during laser vision correction. LASIK eye surgery with the thin flap technology gives an opportunity to treat people with thin cornea. The recovery period is considerably shortened due to the attenuated effect on the cornea.
Eximer Ophthalmology Clinic performs the thin flap surgery with the Moria Evolution 3, an ultra-precise microkeratome. The equipment can be adjusted to the individual characteristics of the patient's eye, resulting in more precise and guaranteed results.
Benefits of thin flap laser correction
The extra-thin flap provides the most attenuated impact on the corneal tissue.
The thin flap technology facilitates the LASIK procedure even for those patients who have been previously denied the correction (e.g., patients with the thin cornea).
The flap is formed individually along the slice and diameter based on the characteristics of a patient's eye.
The extra-thin flap allows achieving the best visual characteristics and a quick rehabilitation period.
The majority of patients having undergone laser correction with the thin flap technology gained 100% vision.
The thin flap technology provides the best optical performance in laser correction with Custom Vue personalized support as well, which gives the best visual quality.