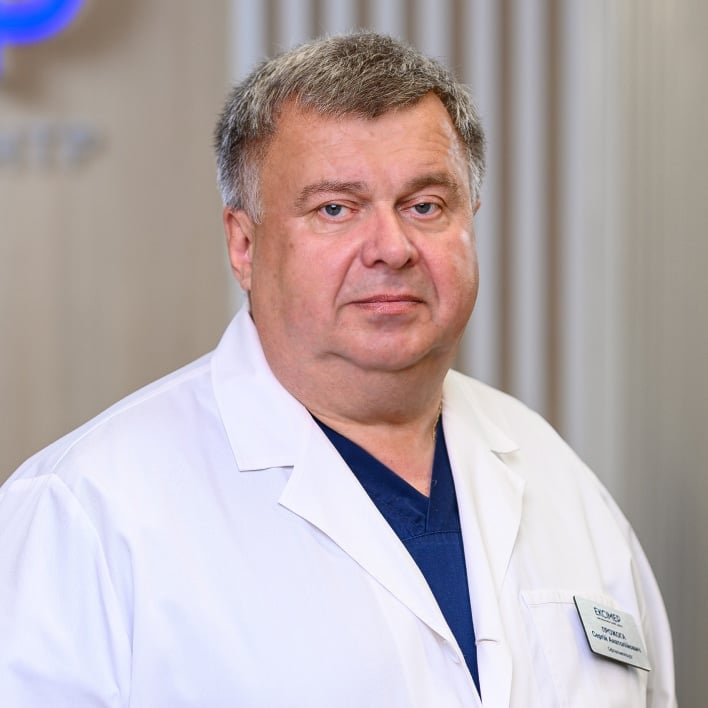 Best Refractive surgeon, ophthalmologist of the highest category, member of the European Society of Cataract and Refractive Surgeons (ESCRS).
Experience: 36 years
Specialization:
– Refractive surgery (laser vision correction)
– Treatment of keratoconus
– Strabismus surgery
Education
1986 – Graduated from the Second Medical Faculty of Kyiv Medical Institute.
1988 – Completed internship in ophthalmology at the Department of Eye Diseases of the Kyiv Medical Institute.
Professional activity
Since 1989 – he worked as an ophthalmologist at the Kyiv Regional Clinical Hospital and Deputy Chief Medical Officer of Zgurovsk Central Regional Hospital in Kyiv region.
From 1991 to 1999 – he worked as the Head of the Eye Department of the Obukhiv Central Regional Hospital in Kyiv region. After that, he worked as a senior resident at the children's eye department of the Kyiv Regional Clinical Hospital.
Since 2004 – he has headed the children's ophthalmology department at Eximer Ophthalmology Clinic. Leading strabology surgeon (specialist in strabismus). He has vast practical experience in treating all forms of strabismus in children and adults, treating dacryocystitis of newborns, nystagmus, etc.
Since 2006 – he has headed the Refractive Surgery Department of Eximer Ophthalmology Clinic. He is fluent in Lasik, PRK, EPI-K, PTK, Custom Vue, and Thin Flap techniques of excimer laser vision correction. He is a leading refractive surgeon.
Certification training
In 1990 – he completed an advanced course on "Eye Microsurgery" at the Department of Ophthalmology of NMAPE at the Eye Microsurgery Center in Kyiv.
He takes an active part in scientific and practical conferences. He has 6 published papers.
In 2007 – he was nominated for the N.I. Pilman Award "For Achievements in Children's Ophthalmology".
In 2011 – he specialized in orthokeratology treatment (using Paragon CRT 100 overnight lenses). In 2011, he mastered a practical course on applying the UV-X-TM device (Switzerland) to treat corneal diseases (keratoconus and others).
In 2013 – he completed a course on femtosecond laser correction, corneal ring implantation, and corneal femtosecond transplantation in Spain.
Sergey Anatolievich is a high-class surgeon. He is the kind of clever pair of hands doctor. He takes the most complicated cases and achieves a guaranteed result. There are no limits for him. He is a person of irrepressible energy in implementing and introducing new technologies. He is a brilliant master of all the academic methods of ophthalmic surgery. He has become a mentor for many young surgeons.
Sergey Anatolievich is a gifted mastermind. He initiated the pediatric strabismus surgery in our center. Hundreds of joyful eyes of our patients attest to his high mastery. A kind and sensitive man, he knows how to find the right words to parents, to calm them down, to encourage them, and to give confidence in a positive result.
Doctor interview