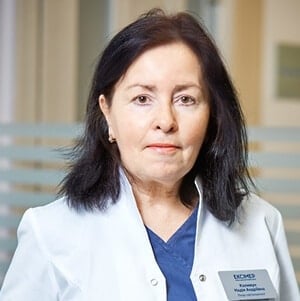 Ophthalmic surgeon, leading retinologist of the center, ophthalmologist of the highest category
Work experience: 37 years
Specialization:
— Modern methods of visual system diagnostics
— Specialist in the field of retina treatment
— Laser methods of treatment of the retina, glaucoma.
— Intraocular methods of treatment of eye diseases
— Glaucomatologist
Education
In 1984 — She graduated from Vinnytsya Medical Institute.
In 1986 — She completed her internship at the Mykolaiv Emergency Hospital.
Professional activity
Since 1986 to 1993 — She worked as an ophthalmologist at the Chervonograd Central State Hospital in Lviv region.
From 1993 to 1996 — She worked as an ophthalmologist at the Fedorovsky Eye Clinic.
Since 2000 — She has been workking as an ophthalmologist at Eximer Ophthalmology Clinic in Kyiv. Leading retinologist (retina specialist); glaucomatologist. She is perfect in modern diagnostic techniques of the visual system, therapeutic and laser methods of treatment of retinal diseases and glaucoma.
Certification training
From 1990 to 1993 — She was trained in clinical residency at Kyiv Advanced Medical Training Institute.
She was regularly trained at the Department of Ophthalmology, Lviv Medical Institute, and in clinical residency at the Kyiv Advanced Medical Training Institute on "Laser treatment techniques in ophthalmology", "Intraocular laser methods of treatment of eye diseases".
Research activities
She takes part in international congresses and conferences.
She has 12 publications and 3 patents.
She works on a thesis for glaucoma laser treatment.
About the doctor
Nadezhda Andreevna has been working in the clinic for over 18 years. She is a dexterous doctor with fine craftsmanship. She is a person of science and at the same time a great practitioner. She has several registered patents for her inventions. She speaks at all conferences and symposiums. She is devoted to her work at full.
At the same time, Nadezhda Andreevna knows how to find her own approach to her patients. Everyone who makes an appointment with her never switches doctors again.
She is an incredible workaholic. A lump of knowledge in retinology. She knows how to make decisions in non-standard situations and likes to work with complex clinical cases.