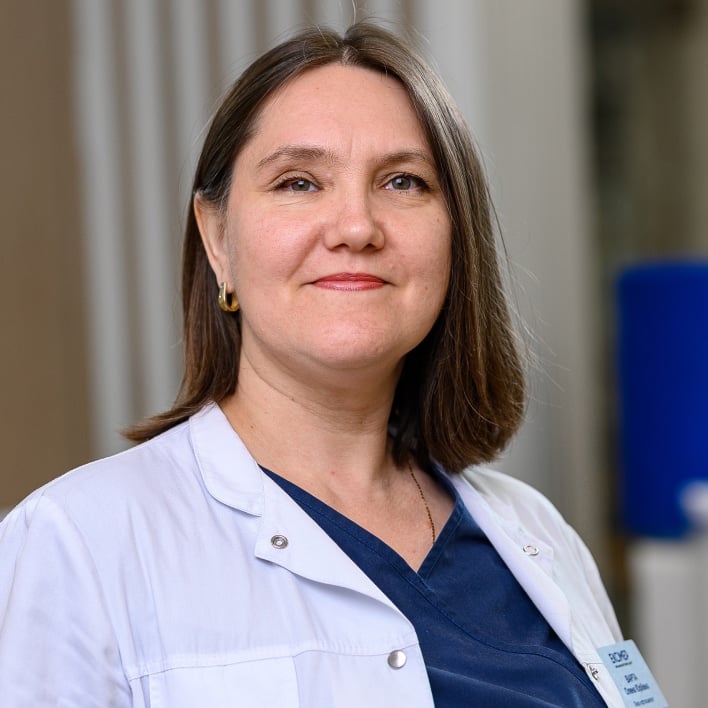 Leading specialist of the Pediatric Department, ophthalmologist of the highest category, member of the Association of Children's Ophthalmologists of Ukraine "ADOU", specialist in orthokeratology treatment.
Work experience: 24 years
Specialization
– Computer diagnostics of vision of children
– Treatment of refractive anomalies and strabismus in children and adults
– Selection of contact vision correction of varying degrees of complexity
– Specialist in orthokeratology treatment
Education
In 1999 – She graduated from Uzhgorod State Medical University.
In 2001 – She completed internship in pediatric ophthalmology at the Central City Hospital and the Eye Microsurgery Center in Kyiv.
Professional activity
Since 2001 – She worked as a pediatric ophthalmologist at the Vasylkovskaya Central Regional Hospital.
Since 2006 – She is an ophthalmologist at the children's department of Eximer Ophthalmology Clinic. She specializes in computer diagnostics of vision, modern methods of machine-assisted treatment of refractive anomalies and strabismus in children and adults.
Certification training
In 2001 – She attended special advanced courses on optometry and contact correction.
In 2003 – She completed her advanced training on eye microsurgery.
In 2004 – She took pre-attestation courses at the Department of Ophthalmology at the NMAPE named after P.L. Shupyk.
In 2008 – She was awarded the first qualification category in pediatric ophthalmology.
In 2011 – She completed her specialization in orthokeratology treatment (use of Paragon CRT 100 overnight lenses).
About the doctor
Elena Yurievna is a true pediatric ophthalmologist. She has been treating eye conditions in boys and girls for more than 20 years. She is the one people turn to in the most severe cases. In terms of human qualities, you will hardly find a more sensitive and compassionate person. She is very attentive to parents and children. She can always find the right examples and arguments for parents to explain how their child sees. After all, it is difficult for adults to understand how bad their son or daughter's vision is. Elena Yurievna approaches each patient individually and chooses the best treatment program. Besides, she has implemented the selection of prismatic glasses prescribed for strabismus in the center, and is actively developing orthokeratology treatment. With her vast experience working with children, she can find an approach to any child, and if correction with glasses is needed, she will choose them perfectly.
Doctor interview